CurQD® Therapy for IBD
The latest research has revealed a new target for the treatment of IBD, the aryl hydrocarbon receptor (AhR) pathway. Aryl hydrocarbon receptors line the gastrointestinal tract, and when activated, send signals to combat chronic inflammation, heal mucosal damage, and restore homeostasis to the intestinal immune system. 
CurQD® contains unique molecules, Indigo and Indirubin (constituents of QD), which exert an agonistic effect on the AhR pathway, meaning they activate these receptors, accelerating the reconstitution of intestinal integrity and contributing to mucosal healing and induction in IBD patients. 
The AhR pathway is now the main focus of emerging novel treatments for IBD. CurQD® is the first therapy shown in clinical trials to induce remission by activating this pathway.
---
Curcumin-QingDai combination for patients with active ulcerative colitis: A randomized double-blinded placebo-controlled trial 
This multi-center trial used a combination of curcumin with Qing Dai (CurQD®) on UC patients who had all failed at least one line of pharmaceutical UC treatments for 8 weeks, with a rollover to an additional 8 weeks maintenance treatment for responders. 
97.5% of patients had previously not responded to 5ASA 

48.8% of patients had previously not responded to biologics and/or immunomodulators experienced. 

Nearly one-third of patients had previously not responded to immune suppressant therapy 
At week 8, 50% of patients achieved clinical remission, and 85.7% achieved clinical response.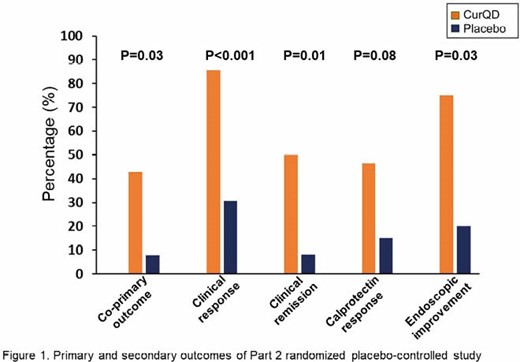 Among those who responded to CurQD®, an additional 8 weeks of treatment with curcumin alone resulted in: 
93% with maintained clinical response

80% with a significant reduction in calprotectin  
CurQD® was found greatly superior to placebo for induction of response and remission in active UC patients, including in patients with moderate-severely active UC, of whom half were biologics or immuno-modulators experienced. 
A limited CurQD® induction phase followed by curcumin maintenance appeared to maximize the efficacy and safety of this combination therapy. 
---
Real-world experience with Curcumin-QingDai combination for patients with active ulcerative colitis: A retrospective multi-center cohort study 
This multi-center retrospective study observed 88 UC patients from 5 medical centers who all had active disease at the time of treatment initiation. 
82.9% had previously not responded to corticosteroids. 

43.2% had previously not responded to at least one biologic/small molecule 

28.4% had previously not responded to over 2 biologics/small molecule 
Within 12 weeks: 
70.4% of patients showed clinical response. 
51.1% of patients showed clinical remission. 
Among biologic/small molecules-experienced patients, 72.3% showed a clinical response, and 44.7% achieved clinical remission.
Of the patients who were on corticosteroids at baseline, 26.9% achieved corticosteroid-free remission. Of the patients on corticosteroids at baseline, 50% were weaned off corticosteroids by the end of induction.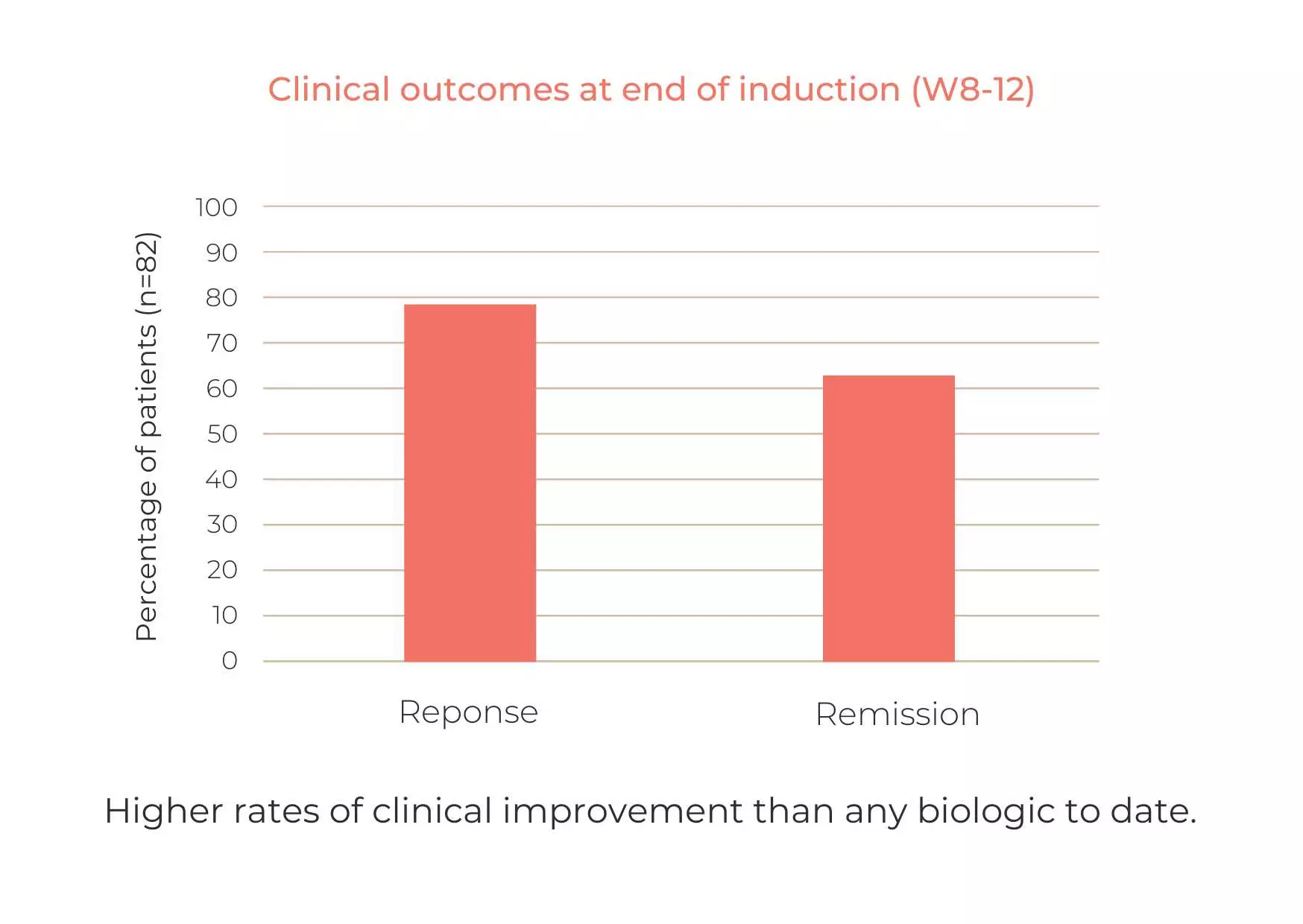 The study shows that a combination of curcumin and Qing Dai (CurQD®) is effective for inducing response and remission in patients with active UC, including patients who did not respond to biologic or small molecule therapy.
---
Curcumin-QingDai (CurQD) combination for moderate-severe ulcerative colitis: A report of two cases 
In a case report on two UC patients, CurQD® treatment led to complete remission, mucosal healing, and long-term maintenance. These were some of the first patients treated with the combination of Qing Dai and Curcumin, and both remain in remission to this day, roughly 5 years later, using only CurQD® and no other medication. 
Patient 1 was a 24-year-old with extensive, severe UC for 2 years, which entailed prolonged hospitalization. Although he improved with infliximab, he still suffered severe symptoms, including bleeding. 10 days into CurQD® treatment, bleeding ceased and the patient achieved complete remission within several weeks. He has since remained in complete remission on CurQD®, over 31 months later. No adverse events were noted. 
Patient 2 was 56 years old, with extensive UC. She did not respond to mesalamine, nor did her symptoms improve with budesonide-MMX (including bleeding, weakness, and abdominal pain). After starting CurQD®, the patient's symptoms resolved rapidly. 5 months later, she showed complete mucosal healing. She has since maintained remission with a tapered dose of QD. 
This clinical experience shows that CurQD® is effective in moderate-severe UC patients, including those resistant to biologics and/or corticosteroids.
---
Sign Up
Stay informed with the latest trials, treatments & fresh arrivals: